Home (amp tone and effects placement)
---
<![if !supportEmptyParas]> <![endif]>
Cakewalk -- Guitar Tracks 2 - intro-level software guitar system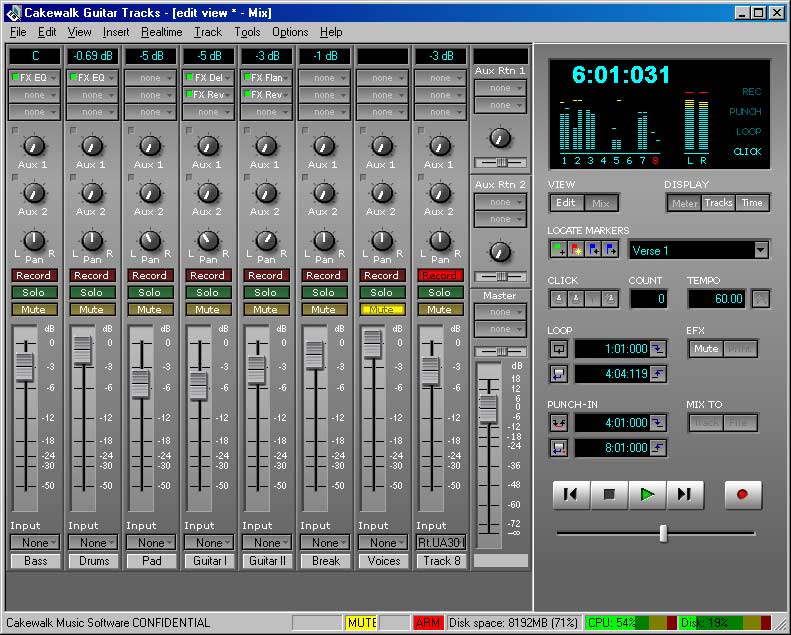 <![if !supportEmptyParas]> <![endif]>
http://www.cakewalk.com/Products/GT/GT2.html - official product page.  http://www.cakewalk.com/Products/GS/GS2.html - compare Guitar Studio, "While Guitar Tracks offers you a simple and affordable product for their needs, Cakewalk provides a natural growth path to more professional products. By upgrading from Guitar Tracks to Cakewalk Guitar Studio 2 software, for example, you can take advantage of integrated recording and editing, more digital audio tracks and effects, guitar tablature and fretboard composing tools, and other higher-end features."
<![if !supportEmptyParas]> <![endif]>
The Guitar Tracks page also mentions how to add more amp models.  "Cakewalk Audio FX 2 Vintage Amp and Tape Simulation - Looking for a way to warm up your audio tracks, but can't afford to spend thousands of dollars on vintage analog or tube gear? Cakewalk Audio FX 2 gives your tracks the classic sound and warmth of several different vintage guitar amplifiers and analog tape decks, without the problems associated with older equipment."
<![if !supportEmptyParas]> <![endif]>
Does the Cakewalk site have a comparison table?
<![if !supportEmptyParas]> <![endif]>
Guitar Tracks features
Intuitive multitrack interface.
Available July 2000
Includes AmpSim Lite DirectX plug-in for simulating vintage amplifier sound
WavePipe audio processing technology for responsive, no-latency audio playback and mixing on standard Windows sound cards
Trial version of Fraunhofer MP3 encoder. Also exports to RealSystem G2 and Windows Media. Can purchase a full version of the professional Fraunhofer MP3 encoder for $25.00 on the Cakewalk Web site. Can mixdown to stereo .WAV files.
Mix tracks in real-time with up to 8 simultaneous effects.
Real-time, non-destructive stereo effects including parametric and graphic EQ, chorus, reverb, delay, and flanger.
SlowBlast utility for practicing guitar licks from albums; loop and slow down music without changing the original pitch.
Supports industry-standard DirectX audio plug-ins.
Eight-track digital audio recording and mixing software for Windows.
Uses standard Windows sound card.
8-track portastudio interface is easy to use.
Real-time mixing console
Record, Play, Fast-Forward, Rewind, Loop Record/Playback, and Auto-Punch Record
Scrolling window of all audio tracks while using real-time mixing controls
Tuner
Drag-and-Drop Drummer Lite for creating drum tracks quickly. Library of over 100 drum patterns.
Playback/Record track meters
buy at Proaudiomusic.com - be sure you get version 2. Compare zzounds.com if they carry it.
<![if !supportEmptyParas]> <![endif]>
---
search deja.com for "guitar tracks" and cakewalk
search Harmony Central for this product
NAMM article at Harmony Central
search deja.com for this product
---
Amptone.com ultra gear-search page
---
Home (amp tone and effects placement)
<![if !supportEmptyParas]> <![endif]>