Home (amp tone and effects placement)
---
Cornford: Harlequin MKI 6-watt all-valve combo recording amplifier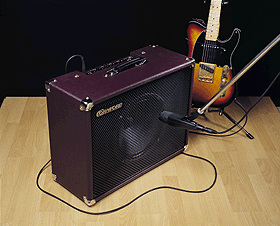 Cornford Amp review from Sound on Sound (local mirror saved)
Guitarist mag has another rave review.
official product page - "...the critical success achieved by the Harlequin 6 watt combo over the last 10 months from both press and players alike. The Harlequin has established itself as a truly groundbreaking studio amp...
6 watt Class A. Single ended output. 1 EL84, 2 12AX7.
Cabinet is solid pine with dove tailed corners with ply baffle board permanently dadoed into cabinet.
Dimensions: 600mm x 450mm x 250mm. Covered in custom-made ox-blood vinyl. Weight 19kgs.
Speaker: 12' Celestion Vintage 30.
All corners, screws, cup washers, handle fixings, etc. Nickel-plated. Bespoke CNC punched, powder coated Metal grill. Powder coated chassis. Leather handle.
Custom designed in-house and hand wound.
Hand-wired, no PCBs.
Controls: Hi and lo inputs, volume, which simultaneously controls first and second gain stages (tandem pot), treble, bass, master volume and voice switch, which alters the frequency range over which the tone controls operate.
The idea behind the amp is to produce something that captures the rich, classic tones of amps from the past, whilst having the flexibility demanded by the modern player, but without the incredibly high price tag normally associated with products of this quality. To make amplifiers that are hand made and will last a lifetime by employing traditional construction methods using only quality components.
The Harlequin was designed to be used in the studio, where it records superbly, and for home use, where you can get a proper tone in your living room without being too loud.
All of us involved in the company are guitarists and our amplifiers are designed by ear, not oscilloscopes. We always thought that guitarists have a better ear for guitar sounds than your archetypal electronics engineer. This approach to amp design has given us what we feel is most definitely a benchmark tone.
We hope you enjoy playing through the Harlequin. It is very easy to use and is packed with totally authentic class A tones, clean and dirty. Being just 6 watts you can drive the output stage really hard.
£499.00 including VAT and UK mainland delivery."
---
Research links
Click these custom links to find the latest information and discussion about this product.
user reviews for this manufacturer at Harmony Central
search newsgroup postings at Deja.com - 7+ hits
search newsgroup threads at Remarq.com - 2+ threads
search Google - 6+ hits
---
Amptone.com ultra gear-search page
---
Home (amp tone and effects placement)