Home (amp tone and effects placement)
---
Distortion Pedal Products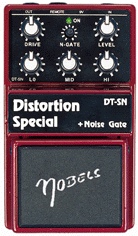 Nobels DT-SN Distortion Special - 2 units in 1 housing. 5-control super-distortion and an adjustable noise gate. The Fast-Gate is especially designed for guitar playing and keeps noise out. Drive, N-gate, Level, Lo, Mid, Hi. Input jack for remote switch.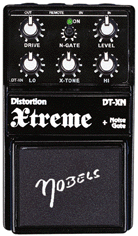 Nobels DT-XN Distortion Xtreme - Adjustable Noise Gate + sustain circuitry. 3 units in 1 housing. 5-control power-distortion, adjustable noise gate, sustainer. Enhanced bass technology and boosted sustain circuitry for Xtreme distortion sounds. Drive, N-gate, Level, Lo, X-Tone (=Mid) and, Hi. Input jack for remote switch.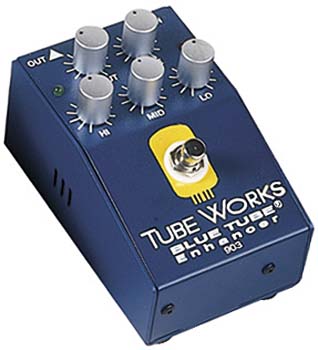 Nobels has several od's/dist's that might be interesting, lots of eq controls. Pre-eq?
DT-XN $129. Dist pedal . Noise gate. 2 tone EQs. Enhanced bass ctrl.

Chandler Tube Driver
I remember the first tube preamp distortion box. I bought the Chandler Tube Driver, designed by Brent Butler, in 1985. In production for 5 years. Used op-amp and a single 12AX7. He then formed Tube Works, which makes Tube Driver and Real Works. Yet I must criticize this development, because it led people down a naive, false path of trying to get "amp distortion" using just a preamp tube and not a power tube or output transformer or guitar speaker. To this day, in 1998, 13 years later, people are still naive, and it's time the entire industry to realize that a preamp tube is of no significance compared to the power tube, output transformer, and guitar speaker. Tube preamps are somewhat of an advance, but will really blossom when a power tube and well-designed load are added (before the time-effects stage).
>I read quite a bit of your page on amp tone and I was wondering what you thought of the old Chandler Tube Driver pedal? I was wondering how it ranked with the other tube pedals.
I like the Tube Driver because it gives a nice, standard, classic distortion sound -- not overdrive, not Metal.
I found some interesting information in The Stompbox book. The first tube distortion pedal was offered by that designer in Guitar Player way back in 1979! I thought I was one of the first people to buy a tube distortion box, in the mid 1980s when I bought my Tube Driver. I really like the Tube Driver, but I strongly recommend experimenting with using an EQ to lower the bass before the Tube Driver. That approach increases the hiss as you lower the Boss EQ's bass sliders -- but the DOD EQ pedal does not significantly increase the hiss as you lower its bass sliders; so I run:
DOD EQ
Tube Driver
Boss EQ

Ibanez Tube King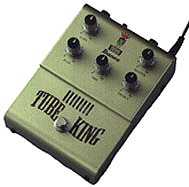 Ibanez TK999US Tube King overdrive [distortion]. 12AX7. 3-band eq. Noise reduction w/ threshold ctrl. Gain control. $200. Official product page for Tube King
The Tube King is probably the Chandler Tube Driver circuit with a Mid control added.
TubeWorks Real Tube 901
>The TubeWorks Real Tube 901 and the Ibanez Tube King are very similar. So similar, in fact, that at one time there was some contention between the two companies about copyrights and patents.
Daniel R. Haney wrote:
>I hear something similar. The contention was said to have been between Ibanez and Chandler, where B.K. Butler made the original Tube Driver. While there was "prior art" at the time, only Chandler had the small-minded greed to actually patent the circuit, so all the Tube Works racks and boxes were made under license from Chandler. As part of a legal settlement between Chandler & Ibanez, Chandler makes a lot of the Tube Kings.
Alan Thompson wrote:
>What contention? Tube Works manufactures the Tube King for Ibanez, the contention in the past was between Tube Works and Chandler. Butler designed both the Chandler and Tube Works Tube Drivers, and when he started Tube Works both companies were marketing them, which led to a lawsuit which I guess Tube Works won, since Chandler stopped putting out its Tube Driver.
Pro Co Rat
Pro Co Sound - Vintage Rat
$95.35.
Hot Chili Tube Company - Tubester
Hot Chili Tube Company - the Tubester tube effect pedal
This tube distortion/overdrive pedal gets quite some raves at harmony central. The reviews seem to vindicate my expectation that the Tube King sounds good, but I read that the Tubester sounds even better. Harmony Central reviews of Tubester. But I asked the designer to put semi-parametric eq both before and after the distortion stage. official Tubester product page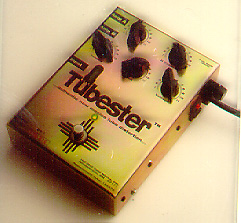 Get the Boss "Guitar Effects Guide Book" in UK - call 01792 515020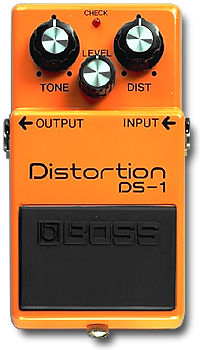 "The DS-1 provides a harder distortion effect for guitar and keyboard sounds. Instead of toneless, fuzzy distortion, the DS-1 faithfully reproduces all the subtle nuances of your playing dynamics, from whisper-quiet to screaming loud. The onboard TONE control allows you to tailor the overall sound to your liking."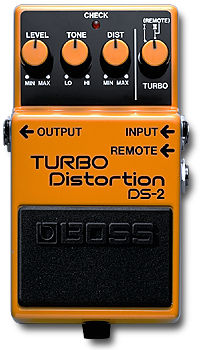 "TURBO Distortion - The DS-2 features twin TURBO modes. TURBO Mode I produces warm and mellow distortion with flat frequency response. TURBO Mode II provides biting distortion with a mid-range boost that's great for leads. The built-in remote jack allows you to connect an external footswitch such as the FS-5L for instant, hands-free switching between modes."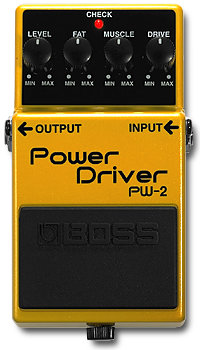 "Power Driver - A super-boosted mid-range and way-too-heavy low end will have you sounding like you¹ve just plugged into a huge stack of 4x12 speaker cabinets. - EQ section features ³Muscle² and ³Fat² controls; Muscle boosts the midrange to unhealthy levels; Fat controls one thing - your complete LOW-END domination. The BOSS PW-2 Power Driver was developed to deliver distortion tones previously unavailable in the stomp box arena - namely, the mid-range-boosted, heavy-low-end sounds that are usually associated with a modern, overdriven stack of 4 x 12" speaker cabinets. Even at low amp volumes, the PW-2 sounds huge."
CAE
hot plate, 5.5, CAE, str6v6 Lennon
---
Amptone.com ultra gear-search page
---
Home (amp tone and effects placement)