Home (amp tone and effects placement)
---
CabTone (by Voodoo Lab/Digital Music Corp.)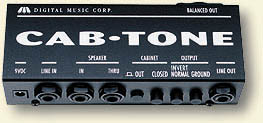 Official product page: CabTone - excerpts:
The CabTone, by Digital Music Corp., is a guitar cabinet simulator for direct recording, sound reinforcement and slaving additional amps and effects. It takes line or speaker level signals and provides both balanced and unbalanced outputs. You can select between accurate simulations of fat, punchy 4x12 closed back or spacious 2x12 open back speaker cabinets. Or switch out cabinet simulation for spanky clean rhythms. Ground lift and phase invert switches are included to eliminate noise and phase cancellation. $149 list.
Guitar Player review 12/97 - excerpts:
Designed to emulate the response of a miked open-back 2x12 or a closed-back 4x12, the Cab-Tone features line-level and speaker-level inputs, plus balanced XLR and unbalanced 1/4" outs. Four push buttons allow you to bypass the emulation circuitry (for use as a direct box), select cabinet types, invert signal polarity (to correct phase cancellation), and lift the ground to reduce hum and noise. For recording or other direct applications, simply connect the output of your pedals, rack effects or amplifier speaker output to the appropriate Cab-Tone input. Note that unlike some speaker simulators, the Cab-Tone isn't a load box–you'll still have to run speakers (or appropriate resistive load) via the unit's speaker-thru jack. Comparing the Cab-Tone's line-input and "open cabinet" sound with a miked Twin Reverb (both units fed a signal from a strat hitting an old Ibanez SD-9 Sonic Distortion), the Cab-Tone displayed warm high-end qualities but couldn't quite match the Fender's top-end complexity. Mixed with other tracks, however, it was tough to hear the difference.
Digital Music Corp.
1320A Industrial Avenue
Petaluma, CA 94952 U.S.A.
Tel 800 986 6696 or 707 782 0600
Fax 707 782 9777
Email: info at voodoolab.com
Official Voodoo Lab Cabtone page
---
Messages 1-51 of exactly 51 matches for search cabtone:

        Date   Scr        Subject                     Newsgroup           Author

   1. 98/04/13 020 Re: Speaker Simulator        alt.guitar            Eagle          
   2. 98/07/08 019 Re: THD Hotplate             alt.guitar.effects    Steve          
   3. 98/04/13 019 Re: Speaker Simulator        alt.guitar            josh           
   4. 98/04/13 019 Re: Direct Guitar Recording  alt.music.4-track     josh           
   5. 98/03/31 019 Re: HELP! how do i hook 2 am alt.guitar.effects    josh           
   6. 98/02/10 019 Re: Mars Music/Voodoo Lab    rec.music.makers.guit Kamchak Tuchuk 
   7. 98/07/30 018 Re: Tube Amp Simulator       alt.guitar            Guitzy         
   8. 98/04/13 018 Re: recording                alt.guitar            josh           
   9. 98/04/10 018 Re: Direct Guitar Recording  alt.music.4-track     thrax          
  10. 98/04/09 018 Re: Direct Guitar Recording  alt.guitar            josh           
  11. 98/04/09 018 Re: Speaker Simulator        alt.guitar            josh           
  12. 98/04/09 018 Re: Speaker Simulator        alt.guitar            Paul Brannon   
  13. 98/04/09 018 Re: Speaker Simulator        alt.guitar            Radical Fringe 
  14. 98/04/06 018 Re: Direct Guitar Recording  alt.music.4-track     Punkerdubh     
  15. 98/04/05 018 Re: Direct Guitar Recording  alt.music.4-track     na2            
  16. 98/04/04 018 Re: Direct Guitar Recording  alt.music.4-track     josh           
  17. 98/04/10 017 Re: Speaker Simulator        alt.guitar            John Klemme    
  18. 98/04/07 017 Re: Direct Guitar Recording  alt.music.4-track     chumbucket®    
  19. 98/04/07 017 Re: Direct Guitar Recording  alt.music.4-track     josh           
  20. 98/04/06 017 Re: Direct Guitar Recording  alt.music.4-track     josh           
  21. 98/04/05 017 Re: Direct Guitar Recording  alt.music.4-track     Chris Gieseke  
  22. 98/03/07 017 Re: Miking an amp: any sugge alt.guitar.amps       Damien Harrison
  23. 98/03/05 017 Re: Miking an amp: any sugge alt.guitar.amps       Steve          
  24. 98/03/05 017 Re: Miking an amp: any sugge alt.guitar.amps       josh           
  25. 98/02/09 017 Re: Mars Music/Voodoo Lab    rec.music.makers.guit xhojo9x        
  26. 98/01/25 017 Re: What is a D.I. Box ?     alt.guitar.amps       josh           
  27. 98/07/12 016 Re: THD Hotplate             alt.guitar.effects    Tellyman       
  28. 98/05/27 016 Re: Recording guitar DI - be alt.guitar.amps       Carl Christense
  29. 98/04/05 016 Re: Direct Guitar Recording  alt.music.4-track     josh           
  30. 98/04/01 016 Re: Direct Guitar Recording  alt.music.4-track     josh           
  31. 98/03/07 016 Re: Miking an amp: any sugge alt.guitar.amps       Damien Harrison
  32. 98/03/06 016 Re: Miking an amp: any sugge alt.guitar.amps       Damien Harrison
  33. 98/03/06 016 Re: Miking an amp: any sugge alt.guitar.amps       josh           
  34. 98/03/05 016 Re: Miking an amp: any sugge alt.guitar.amps       josh           
  35. 98/03/05 016 Re: Stereo effects loop ??   alt.guitar            josh           
  36. 98/02/27 016 Re: Hot Plate-PowerBrake-Pow rec.music.makers.guit Steve          
  37. 98/02/13 016 Re: Mars Music/Voodoo Lab    rec.music.makers.guit josh           
  38. 97/12/04 016 Re: WTB:Hughs Kettner Red Bo alt.guitar            josh           
  39. 97/11/11 016 Re: Anyone used an ADA Ampul rec.music.makers.guit josh           
  40. 97/10/31 016 Re: New HK Red Box?          alt.guitar.amps       josh           
  41. 97/10/15 016 Re: THD Hot plate on Boogie  alt.guitar.amps       josh           
  42. 98/07/12 015 Re: THD Hotplate             alt.guitar.effects    Ericb          
  43. 98/04/04 015 Re: thd hot plate...    #1/4 alt.guitar.amps       Steve          
  44. 98/03/02 015 Re: Hot Plate-PowerBrake-Pow rec.music.makers.guit George Brickner
  45. 97/11/01 015 Re: New HK Red Box?          alt.guitar.amps       Teleologist    
  46. 97/10/15 015 Re: Line out question        alt.guitar.amps       josh           
  47. 97/10/15 015 Re: Line out question        alt.guitar.amps       Peter Horn     
  48. 97/09/09 015 Re: Looking for Best DI for  alt.guitar.amps       josh           
  49. 97/12/07 014 Re: Power Attenuators ..#1/3 alt.guitar.amps       Steve          
  50. 97/09/14 014 Re: Looking for Best DI for  alt.guitar.amps       StratMan       
  51. 97/09/12 014 Re: Looking for Best DI for  alt.guitar.amps       Griz...Son of M

---
Amptone.com ultra gear-search page
---
Home (amp tone and effects placement)