Distributor:
Custom-Sounds
Onnistaipaleentie 72
35300 Orivesi Finland
Tel. int + 358 3334 6669
fax : int + 358 401 4000 11
email: info@custom-sounds.com
Updated: 25.06.2000
Koch amp: Twintone with built-in power soak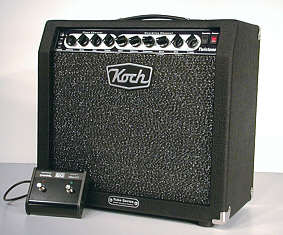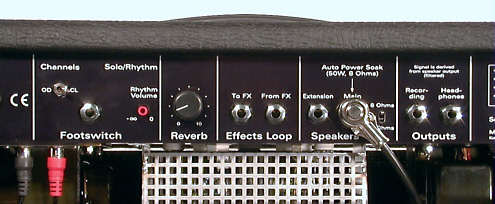 If you're looking for a compact but still very powerful 50 Watt all-tube amp with magnificent overall performance and all the X-tra's you desire....well, here it is. The Clean channel delivers rich clean sounds, solid as a rock and well defined, enhancable with a reverb of generous depth. The Overdrive channel ranges from edgy clean with a nice sustain and moderate distortion to an exciting crunch. Moving further up the scale .... it's high-gain rockers paradise. The special dual-gain control also provides more than enough tones in between to fulfill any guitarist's needs.
Other nice features are the Solo/Rhythm facility, Recording out, Headphones out, Built-in Power Soak providing selection of 0, 25 or 50 watts output power, Classic long-scale Reverb (also in the Head).
Create your music in any style you want and discover that this amp will be your everlasting friend.
This compact all-in-one package is the ideal tool for a wide variety of music styles and applications such as recording at home or in the studio, rehearsing and performing. It offers plenty of power and all the tone and quality of the larger models without the extra weight.
SPECIFICATIONS:
High and Low inputs
50 watts at 8 or 4 ohms
2 channel preamp, footswitch selectable
Classic clean channel
Post EQ overdrive channel with four gain stages
Dual-Drive control
Four 12ax7 preamp and two EL34 power amp tubes
Buffered effects loop DC coupled, serial signal level -10dBV
Solo/rhythm volume, footswitch selectable
Auto power soak
Headphones & recording outputs
Speaker simulating filter, passive 12dB/oct.
Accutronics classic model reverb
One 12" Koch VG12-90 speaker
2 speaker outputs, switchable 4 or 8 ohms
2-way footswitch included with LEDs
Option: Head version
Dimensions (cm) combo: 50w x 47h x 28d - head : 50w x 28h x 28d
Weight Combo: 23kg - head : 14kg
POWER AMP:
Two Svetlana EL34īs in combination with a high quality output transformer build to vintage specs, provides an excellent sounding classic power station.
CLEAN CHANNEL:
This is "classic" channel, standard in all models, itīs warm, sparkling and full of tone combined with a superior headroom. Itīs the channel where it all starts.
POST-EQ OVERDRIVE / HIGH GAIN CHANNEL
This amazingly flexible channel allows you to create tones ranging from compressed clean, to raw crunch and even to mega-distortion. The specially designed 'Dual-Drive' control provides this enormous range of tones by controling the gain of two preamp stages simultaneously. Accurate voicing in the preamp stages in combination withclassic post-distortion tone control enables this channel to produce the right sound in every gain setting.
SERIAL EFFECTS LOOP
This loop, including buffered in- and outputs, operates at -10dBV signal level and therefore allowing you to use any effect unit you want, from an antique stomp box to a professional 19 inch rack unit.
HEADPHONE AND RECORDING OUTPUTS
Special designed speaker-simulating filters ensure that the sound is identical to the sound coming from the speaker.
AUTO POWER-SOAK
This built-in 50W speaker replacer is at your disposal 24 hours a day. Even in the middle of the night it allows you to play the solo you have just been dreaming of with full tube-power without waking up anyone. Just pull the speaker plug (the power soak now connects automatically) and the amp can be driven at full power without any danger of damaging vital parts. You can also use the power-soak as a "second" speaker and reduce the power to 25W.
SPRING REVERB
The built-in original spring reverb tank causes the amp to expand with a great range of vintage reverb textures.
---
Research links
Koch Twintone
+Koch +Twintone

Click these custom links to find the latest information and discussion about this product.

Article at Harmony Central (none?)

user reviews for this manufacturer at Harmony Central

product news for this manufacturer at Harmony Central (predicted)

search newsgroup postings at Deja.com
---
Amptone.com ultra gear-search page
---
Home (amp tone and effects placement)