Home (amp tone and effects placement)
---
Palmer PDI-03 dummy load and cabinet simulation filter, PDI-05 cabinet simulation filter, and PDI-09
Palmer products - pga-01, pga-02, others.
user reviews of Palmer products
>Michael, have you ever heard, or heard of, Palmer speaker simulation devices? I've read about them for a few years in the racks of the rich and famous. They're the ultra-cool-sounding brainchild of a crazy German with a tiny operation.
There are a few different types of Palmers, some working as a load box (power amp to line level interface) and some just functioning as a speaker simulator for direct recording.
There is prominent, though not detailed, coverage of the PDI-03 and PDI-05 in the back of the book The Complete Guitarist, by Richard Chapman, a large 1/2" thick white book available in most bookstores (it's the best guitar book and I recommend you read the equipment section at the end).
See The Complete Guitarist (by people in the U.K.) for a complex rack diagram using these. In one of the signal routes, I don't understand why both the 03 and 05 are used, in series; I doubt that the filter is ever used twice in series, in that rack system. [to do: search DejaNews and Web for Jim Barber, who wrote the Rack-mounted Systems section of The Complete Guitarist]
There is nothing about this on the Web except mentions in equipment lists.
William Low wrote:
I'm in the market for a Palmer Speaker Simulator. I need it for direct recording. What model would you suggest? I will be using an amp head, an effects rack, and I want to record onto hard disk in stereo through a Gadget Labs 8/24 Digital recording interface. I know very little about power issues (pre amp/power amp) and where this unit fits in the chain. So any help here is appreciated. Does anybody know if there are any USA venders?
Rick Krajnyak wrote:
Here's some info a friend of mine sent me...
Thanks for your interest in the Palmer products. Yes, we are the North American distributor. We are currently distributing the PDI-09, the PGA-04, and the PGA-05 which are direct recording devices for guitar. The PDI-09 is a pocket size version while the other two are rack-mountable. The PGA-04 has a built-in load, so no speakers have to be used with your amp. The PGA-05 is a stereo version with no load built-in. We also sell other Palmer products, such as Y-boxes and A-B switchers. If you would like more information, please call us at 615-242-2925.
Thank you,
Arthur Ray, Techstar Sales and Services
Rick Krajnyak
REAL2REEL Recording Studio
Blacksburg, VA
Palmer prices: http://www.musicians-gear.com/pl/183.htm
PDI01 DI-BOX PASSIV 137,00 DM
PDI02 DI-BOX AKTIV MKII 261,00 DM
PDI04 POWER ATTENUATOR 662,00 DM
PDI06 POWER ATTENUATOR SPONGE 361,00 DM
PDI09 GUITAR DI-BOX *JUNCTION* 151,00 DM
PLI01 LINEISOLATION BOX 1CH JACK 85,00 DM
PLI02 LINEISOLATION BOX 2CH XLR 261,00 DM
PLI03 LINEISOLATION BOX STEREO CH 114,00 DM
PLS02 LINESPLITBOX XLR 2CH 1IN3 342,00 DM
PAN01 DI-BOX PASSIV 61,00 DM
PAN02 DI-BOX AKTIV 79,00 DM
PAN03 19"DI-BOX AKTIV 4X 294,00 DM
PRMLS 19"LINESPLITBOX 4X 621,00 DM
PRMMS 19"MICSPLITBOX 4X 621,00 DM
PRMDI 19"DIBOX PASSIVE 4X 572,00 DM
PRMLD 19"SPLITSYSTEM 4X 1181,00 DM
PW2 POWERSUP.FOR 2X PRMLD 272,00 DM
PW10 POWERSUP.FOR 10XPRMLD 841,00 DM
PPB20 PRESS PATCK BOX 2442,00 DM
PGA01 TRILINE GUITAR ROUTER 381,00 DM
PGA02 E-FROG CABINET SWITCHBOX 137,00 DM
PGA03 Y-BOX GUITAR SIGNAL SPLITTE 161,00 DM
PGA04 ADIG-LB GUITAR DI+LOADBOX 587,00

Palmer PDI-03
The Palmer PDI-03 is a dummy load and cabinet simulation filter. This is evidently the original unit - originally light gray, with no model number, just "Palmer Speaker Simulator" in large lettering on the front. Later, dark gray, like the 05, with the model number shown on the front: "Palmer Speaker Simulator PDI-03". Single channel, rather than stereo/2-channel. It might be passive. Single-space rack unit. Minoru wrote "I own a PDI-03, which is like a big resistor, ie a load box. You feed the Speaker Out of your amp (8 ohms, 100 watts max) into the unit, and it attenuates the signal to line level. It's a 1U rackmount, with Volume and two Tone switches on the front, and 4 "Direct Outputs" (these do not go through the tone/speaker simulator switches [thus, no cabinet curve simulator filter, I think - Michael]), an XLR out and a 1/4" out for the simulator, and speaker in/out terminals (you don't have to connect the speaker though) [connect the speaker? what, is this a power *attenuator* as well, or is that just a full-power Thru connection?]. I like it very much, it is very useful when you can't mic an amp.
Palmer PDI-05 Speaker Simulator (cab sim filter)
The Palmer PDI-05 is just a speaker simulator -- that is, a filter to simulate a cabinet response curve as heard by the ear after the speaker. It has two channels, as in "left" and "right". It is active. Single-space rack unit. Minoru wrote: "Palmer also makes the PDI-05, which is essentially a 2-channel amp simulator without the load box. I believe they've changed the model designs and features a bit recently, but I don't remember of them enough to be sure. I live in Japan, and the Palmers can be bought fairly easily at good music stores; my PDI-03 cost around $600."
Palmer PGA-04 Speaker-Simulator ADIG-LB with Loadbox
A new model is available -- the PGA-04. One recording engineer told me he dislikes the sound of it.
From: Greg Meadows
Sent: Wednesday, April 05, 2000 7:51 PM
Subject: Budda
>Michael,
>I inquired about the Palmer PDI-30 and received a response from Palmer in Germany:
>"The PDI03 was stopped because
1. Groove Tubes accused us of infringing their speaker emulator patent.
2. we want to pick up the ideas of our customers for improving the PDI03.
The PGA04 uses the identical sound shaping filter circuit as the PDI03. This means the PGA04 can copy the sounds of the PDI03. But the PDI03 had three position switch for bass and treble response. With the PGA04 you can control your sound continuously via pots. In addition a "colour" switch lets you choose between two basic speaker sound characteristics. A mixing facility with the "full range frequency band" allows you to create clean sounds like a "direct to desk" played guitar plus some really weird distorted sounds. The load box uses tungsten bulbs to deliver a dynamic response to the amplifier. All in all we are convinced the new model gives you a greater variety plus the original sounds the PDI03 is famous for."


PGA04 front


PGA04 rear
"The ADIG-LB is a successor to our legendary speaker simulator, which has conquered recording studios world wide and is used by such renowned artists as Keith Richards/Rolling Stones, Eric Lifeson/Rush, Warren Cucurullo/Duran Duran as well as Eddie Van Halen and Def Leppard, only to name a few. The ADIG-LB is connected in place of speaker cab, facilitating direkt-to-mixing-board recording, thereby eliminating undesirable "noise pollution" through "cranked" amplifiers. An extensive and unique filter section lets you shape the sound beyond the boundaries of common EQ circuits. The ADIG-LB works without any additional mains power."
Loadbox: 6.3 mm jack input with parallel THRU socket for speaker operation
Loadbox input impedance: 8 ohms, max. Input load: 120 w RMS
Input level display: 6 LED's
Output: 2 x 6.3 mm jack, unbalanced, floating ground, 1 x balanced XLR output
Output impedance: jack: 10.000 ohms, XLR: 600 ohms
Level: unbalanced 0 dB, balanced -10 dB at 25 w input
Controls: Volume FiIlter, LOW, HIGH, LITE/BROWN-switch for tone shaping.
Full Range Volume for unfiltered signal, used in conjunction with the HI-CUT to emulate the bright sound of, e.g., 10-inch speakers
Both signals attenuable
Dealers
Bradshaw (818) 763-8898.
Tech Star in Nashville is now the master distributor for Palmer products in the U.S. (615) 242-2925.
According to Tech Star, there are 3 models:
$150 basic [cab sim filter only, I suspect]
$425 with 8 ohm dummy load (mono)
$550 stereo but no load box [probably cab sim filter only]
Finding a used Palmer on the Web
An AltaVista search can often locate gear such as this. Several people have written me about buying or selling Palmer speaker simulators. This site does not have the mechanisms to connect buyers and sellers. Instead, use the used gear sites. Harmony Central probably has links to these sites.
Eddie Van Halen's setup
>Eddie uses the Custom Audio Electronics amp switcher Version 1. From that the dry speaker signal goes to the Palmer PDI -03 then the Palmer Dry signal goes to Centre Cabinet ( Dry Cabinet).
>Last time I saw New VH concert I believe he uses 3 Palmers two of those are PDI-05 which has dummy load [incorrect? Complete Guitarist indicates that the 03 has a dummy load, 05 is a filter only]. I believe he used to use 5150 heads, Two CAE Crunch Mod ( on his marshalls) for Punch sound ( Balance Tour) and 5150 Combos for his clean sound. He switches those amps with the CAE Amp Switch vers.
>Eddie just used it to drive his effects and H&H power amp, he didn't use it as a load or for going direct. The Red Box doesn't sound too bad direct.
Extensive coverage of EVH rig, including diagram p. 41 Guitar Shop Spring 94. Shows 5150 head driving a Palmer Speaker Simulator as a dummy load [or is it used as a power attenuator? check article again] but it's totally unclear what the signal path is, with multiple interconnections between multiple amps and cabs. EVH said "My Palmer Speaker Simulator takes the load from my amp and distributes it to my H&H power amp, which powers the two wet cabs that have the effects. My 5150 goes right into the dry cab, which is miked. I have a mix of all 3 on stage."
---
Keith Richards praised a "direct amp simulator device" made by Palmer.

One owner wrote: "I own one and have had it about 2 years. I bought it from a friend who owns a recording studio. He has lots of tools like this and I talked him out of one after using it at a session. It is a wonderful unit capable of delivering some very amp-like tones. It is a passive box with an attenuator switch and a 3-way selector for "mellow, normal, or bright" amp simulations. It is very portable and would be a godsend if your amp were to die at a gig. I still like a regular amp better, but nothing else comes close to this box as far as simulators go in my opinion. It is great for that late night recording session where disturbing your neighbors is a concern. This blows away any Sans Amp I've owned and even sounds better than some high price emulators. I don't know where to find one new, though. If you see one, buy it immediately."

Greg wrote: "A lot of the big rock guys seem to like 'em. I've never been able to even *look* at one in the U.S. They are a UK-based company, I believe. Maybe in NYC or LA you could find one."

This is the unit that EVH used to turn his head into a big distortion box. Alex Lifeson, Adrian Belew and Warren Cuccirulo all use them.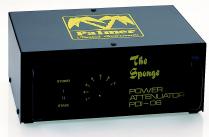 PDI-06 - The Sponge power attenuator
Subject: Re: PDI-03
To: Michael
I'm producing a Joe Satriani album right now, we haven't used a speaker cabinet so far. that thing is so good, it's sick. EVHalen uses one or two to send to FOH in concert.Keith Richards to record. Yes, I recommend it.-the PDI-03, not the other new piece of crap.
Eric > Have you used the PDI-03 a lot? Do you recommend it? > >>I have actually bought the new model -PGA-04- from TechStar in Nashville, it was supposed to be a cooler version of the PDI-03, and it absolutely sucks. They have changed everything inside, although it works on the same principle. It is now impossible to get any kind of clean sound, it distorts like Hell, and if you give it a fairly gainy amp output the top end sizzles badly. In short, it is unusable.
>>And by the way....I bought four (4) of them! So if you know anybody that wants them. Let me know. > >>>>I need to find a PDI-03 Palmer Amp Simulator straight away. Can you help?
To: Michael at amptone.com
Subject: palmer speaker sims.
Date: Wed, 17 Mar 1999 23:11:35 EST
I have one of the newest versions of the PDI-03.its model # is PGA-04. This thing kicks ass it took a year to get from tech-star but it was well worth the wait.
>-- Dave
>From: Eric Shen
Hello,
I recently got a Palmer PGA-04 speaker simulator and load box. It also goes by the name ADIG-LB, for advanced direct injection for guitar load box.
I don't believe that Palmer makes the PDI-03 anymore, at least that's what Techstar in Nashville says.
But the PGA-04 is supposed to be the next step in the evolution of the PDI-03.
It is a one space rack mount mono unit. Completely passive, so no power supply. It is a load box, not adjustable attenuator, that can handle up to 120 watts continuous at 8 ohms. It has a speaker in jack where you plug your power amp output into. It also has a full power thru jack, so you can plug a speaker cab, this disables the load box. There are three line outputs, XLR, and two 1/4" that can all be used at the same time.
The front panel has two sections, basically a filtered section which are the controls for the speaker / cab simulation, and also an unfiltered section which is the direct un-simulated signal from the amp.
The control knobs for the filtered section are volume, low, and high. The low control tailors the low end from a 2x10 cab to a 4x12 cab. The high end goes from mellow to bright. There is one switch that controls the speaker character between two options, brown and lite.
The unfiltered section has a knob for volume, and one switch to attenuate the high end.
The idea behind having two volume controls for the filtered and unfiltered sound is to be able to mix the direct sound in with the cab simulated sound. Or even to have a pure direct tone, which is used often for clean guitar sounds.
This is obviously a direct recording or live into the board tool. I paid $390 new for it, from Techstar, although I think the price may have gone up. It also took a long time to get here, it seems Palmer in Germany is not very reliable when it comes to delivery dates.
Eric
>From: Padaboom Productions
>Sent: Monday, August 30, 1999 4:03 PM
>To: 'Michael at amptone.com'
>Subject: Palmer speaker simulators
>Hi,
>I was wandering if anyone could give me a name or an emailadress of a distributor/importer of Palmer products in Europe ?? I read somewhere that Palmer may be a German company or that Palmer >products may be manufactured in Germany, but I can't find them anywhere!!!???
>Thanks,
>-- Marc
---
Official Product Page
Palmer Direct - Palmer products page
Adam Hall has soemthing to do with manufacturing these brands:
EMINENCE
FANE
PALMER
SKB
TECH
Address for Palmer (Adam Hall inc.)
this page lists:

Adam Hall GmbH
Straße Rudolf-Diesel-Str. 5
Ort 61267 Neu-Anspach
Telefon 06081/94190
Fax 06081/43280

this page lists: Adam Hall GmbH
Address: Siemensstraße 20
Zip, City: 61267 Neu-Anspach
Telephone: 06081-94190
Fax: 06081-43280
Country: Germany
CEO: Geschäftsführer:David Kirby
kirbyd at mail.nacamar.de


Official Adam Hall page for Palmer speaker simulator and for Palmer power attenuator: http://www.adamhall.com: enterEnglish: palmer: Speaker-simulator Adig-lb With Loadbox, or Sponge power attenuator.
Palmer PDI-09 Guitar DI Box Junction
Move to a DI section of Amptone.com, like Cabtone or Redbox page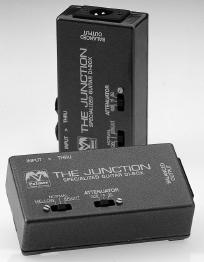 PDI-09
A DI box designed especially for guitars, for use with line level preamps, or to be connected between amp and speaker, enabling direct-to-mixing-desk recording without microphones. Integrated filter circuits simulate the authentic "speaker" sound. Tone can be varied between "Mellow", "Normal", or "Bright". Technical specifications: Input: 6.3 mm jack with parallel "THRU" socket Output: male XLR transformer balanced Attenuator: (Level switch) 0 dB for line signals, -15 dB for small amps up to 10 w, 30 dB for large amps up to 200 w No battery necessary
On questions about this product please send email to mail at adamhall.com
Palmer PGA-01 TriLine Guitar Router
Move to Switching Section of Amptone.com
Official Adam Hall page for Palmer TriLine Router: http://www.adamhall.com: enterEnglish: palmer: Triline Guit.router.
"The TRILINE functions as an active A/B/Y box. Two high quality discretely built amplifiers serve as gain stages one for each output linked by a mumetal shielded isolating transformer. Only this configuration ensures an absolutely clean ground loop free hook up to two amplifiers. The TRILINE's inputs may be used in conjunction or parallel. Internal switching is done with an optocoupler, therefor smooth and click free switching is guaranteed. There are basically two uses for the TRILINE: you want to play guitar with a choice of two amplifiers. The TRILINE enables you to use both individually or together. Switching occurs without any delay or noise. Or: you have two guitars and want to play them with different amplifiers. For example, an electric guitar and an acoustic guitar, both with respective amplifiers - no problem! The TRILINE even has a balanced XLR output with whitch you can link your acoustic guitar directly to the P.A. A DI box is included, so to speak. And talking about extras, we even thought about an extra output for your tuner. Should you be, as in case 1, playing one guitar over two amps, but you want to send both amps through the same speaker cabinet, you will also need a speaker cabinet switch - the Palmer E-FROG. (PGA-02)"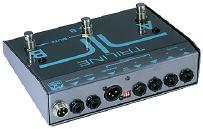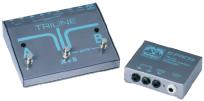 ---
Related Harmony Central Pages
Harmony Central pages about "palmer" AND "simulator"
PDI-09 reviews at Harmony Central
PDI-04 reviews at Harmony Central
Palmer reviews - root page at Harmony Central
---
Related Newsgroup Postings
Newsgroup postings about palmer and "speaker simulator" 68 hits
---
Construct Your Own Search
Amptone.com ultra gear-search page
---
Home (amp tone and effects placement)