<![if !supportEmptyParas]> <![endif]>
Home (amp tone and effects placement)
<![if !supportEmptyParas]> <![endif]>
---
Peavey - TransTube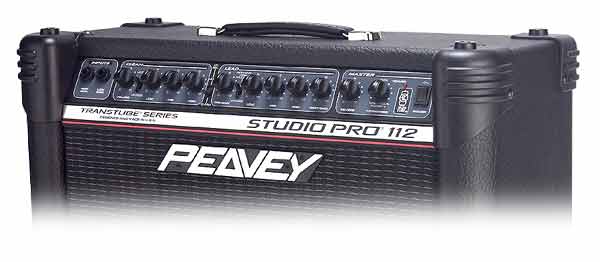 Peavey: TransTube SS amps with power attenuator - The power amp reacts just like a tube output section by responding to the preamp with natural compression that increases as the amp gets louder. T-Dynamics control lets the player dial the actual output of the amp. With this control the player can select any output level from full output down to 10% of full rated power. Not merely a master volume, T-Dynamics changes the output of the amp to react as amp of the selected power would. This way you can dial in a sound and maintain it at any volume level. Perfect for going from practicing in your room to playing a big venue. Peavey invites you to try a TransTube amplifier and see for yourself.
TransTube Studio Pro 112 - official page - excerpts:
Tube amp simulation, vacuum tube emulation. The preamp has been redesigned, using patent-applied technology that redefines tube-like distortion and harmonic generation in solid-state amps. The new second generation Transtube amps contain voicing switches on each channel to allow easy customization of the ampīs tone and gain. The clean channel has a Modern/Vintage switch, and the lead channel has a 3-position switch providing High Gain, Modern, or Vintage tone. T-Dynamics control is awaiting several patents - recreates tube power compression. Resonance and presence circuitry. Turning down the T-Dynamics control lowers the power level the amp puts out.
http://namm.harmony-central.com/WNAMM01/Content/Peavey/PR/Special.html - Peavey TransTube Special 212 - http://namm.harmony-central.com/WNAMM01/Content/Peavey/PR/Special-large.jpg - January 19, 2001.  Two 12-inch Sheffield speakers to handle 130 Watts at 8 ohms.  Three footswitchable controls, footswitchable effects loop. T. Dynamics control: the amp volume can be lowered while still maintaining the desired tone. Presence and resonance controls, reverb control. Modern/vintage voicing switch on the clean channel.  High gain/modern/vintage voicing switch on the lead channel. Ultra channel has an ultra/high gain/boost voicing switch.
<![if !supportEmptyParas]> <![endif]>
<![if !supportEmptyParas]> <![endif]>
---
Amptone.com ultra gear-search page
---
Home (amp tone and effects placement)
<![if !supportEmptyParas]> <![endif]>