Home (amp tone and effects placement)
---
Rocktron: RepliTone modelling amp
official product page - excerpts:
New RepliTone combo amps. Get the sounds the players get with a powerful DSP combo amp that models the artists, not just the amps. DSP effects ... based on Rocktronís Intellifex. This amp series features Digital Tube Replication technology (DTR) to replicate the artists and their many vintage and modern amplifiers. Tweeds, Plexiís, Fuzz Tones, Jazz Tones as well as Thrash, Class A, 70ís Style and many more with ease. Each replication features all of the dynamic characteristics of the original tones including EQ, gain structure and attack dynamics, and the FEEL of the REAL THING.

Rocktronís new DTR technology HUSH noise reduction 30 programmable presets w/MIDI interface Stereo 24-bit digital effects 16 vintage and modern amplifier replications 60 watts (per side on 212) Tap tempo delay and trem rate Stereo headphone output with speaker simulator Traditional look and operation Real amplifier controls Dozens of effect configurations

The RepliTone series features a programmable 24-bit DSP effect section with effects such as delays, choruses, flange, phaser, compressor, wah, tremolo, rotary speaker and reverb. Dialing in just a right amount of effect is made easy by using the Effect Select knob to select the effect and adjusting the Effect Adjust knob to modify it. Delay time or Trem Rate can be set on the fly with the Delay Time and Rate buttons. 30 MIDI programmable presets (which can be switched via any MIDI controller or by an optional 4-button footswitch) and stereo effect loop make it very easy to use tons of tones in any live situation.

The studio is also a perfect place for the RepliTone amps. Not only can you achieve almost any tone you want, you can use the Headphone output with speaker simulation to run the RepliTone amps direct in stereo.

The controls of the RepliTones are laid out in a traditional amp style with knobs for adjusting Bass, Mid, Treble, Gain and Volume. Additional controls for Effect Adjust, Reverb Level, and Delay Level make it extremely simple to use and adjust in those real critical moments on stage.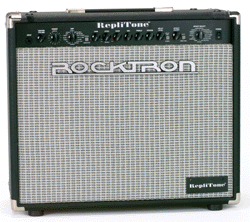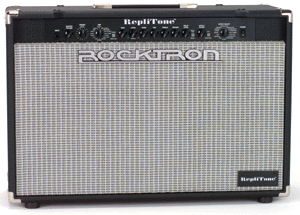 Guitar Player review (local mirror saved) - Digital Dynasty: Five New Generation Modeling Amps. By Art Thompson. From Guitar Player, Dec. '99. Five digital amps. The Rocktron RepliTone and Yamaha DG80-112 receive Editors' Pick Awards.
Crate: DX-212 ($880)
Johnson: JT50 ($649)
Line 6: Spider 112 ($599)
Rocktron: RepliTone ($899)
Yamaha: DG80-112 ($999)
---
Research links
Click these custom links to find the latest information and discussion about this product.
search at Harmony Central (pending)
Article at Harmony Central (pending)
user reviews for this manufacturer at Harmony Central (pending)
search newsgroup postings at Deja.com
search newsgroup threads at Remarq.com
---
Amptone.com ultra gear-search page
---
Home (amp tone and effects placement)