Home (amp tone and effects placement)
---
Tech 21 Sans Amp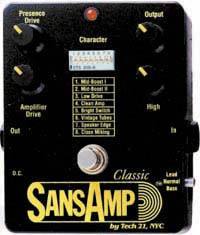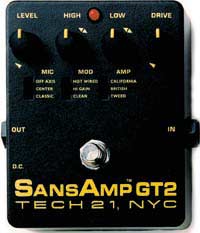 GasPedal.com - tech21 product info/samples including Sans Amp
SansAmp Classic - $345. Tube-amp emulator pedal for recording direct. Knobs: out level, presence, amp drive, tone. 8 microswitches.
SansAmp GT2 $195. Floor pedal. Amp emulator, choice of amp type, modification, speak cab/ mike/placement configurations, complete virtual tube-amp setup.
SansAmp PSA-1 $795 1 rackspace, MIDI tube-amp emulator. 49 factory presets. Vintage, modern amp sounds. For direct recording, etc. 49 user programs. Stereo out. ster fx loop. momentary ftsw $25.
Tri-OD $245 Floor unit. Ch switching. 3 tube amp modes: tweed, Calif, Brit. Drive and level ctrls. Master EQ . Spk simulator.
In "Tone Toys '95: Direct Recording Preamps & An Innovative Power Amp Simulator (Joe Gore, Guitar Player Jan 1995), the ADA Ampulator was reviewed along with the Marshall DRP-1, Tech 21 Tri-OD, and Hughes & Kettner Tubeman Plus. The Ampulator blew them away in the review; he strongly recommended that if you use these others, use them with the Ampulator, which provides power-tube squashy dynamics.
XXL - warp control balances odd, even harmonics, for use with amp. Level, drive, tone controls. $125
Trademark 60. Guitar combo amp. $695. 2-ch, 1x12, 60-watt [ss?] guitar combo. 4 ftsw sounds. SansAmp XLR output. Reverb.
info at tech21nyc.com
SansAmp GT2 Unofficial Homepage
Tech21 email: info at tech21nyc.com
Tech 21: the Sans Amp Technology - "In 1989, B. Andrew Barta made his invention available. SansAmp pioneered Tube Amplifier Emulation for recording direct and performing live. Over 10 years of research and development went into Tech 21's proprietary F.E.T. hybrid-based circuitry. Designed to emulate tube amplifiers in their totality, SansAmp's 100% analog circuitry has a pre-amp stage and an output stage. Incorporates the harmonics and sweet overdrive characteristics uniquely inherent to tube amplifiers, which is largely caused by what is referred to as "push-pull" symmetrical clipping. A single tube is physically incapable of producing this result. SansAmp captures the warm, rich, natural tones of a large variety of tube amplifiers. Speaker simulation is part of the SansAmp Tube Amplifier Emulation circuitry. Engineered to yield a smooth, even response as would be achieved by a multiple-miked cabinet - without the peaks, valleys, and notches associated with single miking. Rather than interfere, the speaker simulation will actually complement the sound of your own speaker cabinets. The output is compatible with full range [flat-response] (multi-track recorders, studio monitors, P.A. systems) as well as limited range systems (guitar or bass speaker cabinets). Responds to and interacts with the dynamics of your playing and your instrument.
---
Some people think the Sans Amp is a success, others don't. The same is true for every amp emulator, it seems: "As for the Roland COSM amp sims, they sound OK, but not nearly as good as a miked tube amp. Close, but no cigar. I've been playing for over fourteen years and the amp sims in the VS can kill my inspiration. I use Marshalls and play through a 50 Watt master volume, preamp / master on 8 or 10, and no amp sim in the world, including the VS, can come even remotely close to sounding as good. The only amp sim worth having, I think, is the Sans Amp. It's the best I've heard." [George Carden - Feb '97]
From the newsgroups. Tube Amp Emulators-Which is Best? My new SansAmp Classic (excerpts):
ADA Ampulator rack: This lists for $600. wasn't as versatile as it appeared in theory. I couldn't get the warm, full sound that I was looking for.

Ibanez VA3 Virtual Amp: I didn't spend enough time with this to try and set up my own sounds. I just tried all of the presets. It seemed like more of a multi-effects unit than an amp simulator. This box excelled at giving the illusion that I sound like Eddie Van Halen. It would probably be a good choice for someone who plays hard rock. But I wasn't impressed with the cleaner sounds. I can't really see anyone recording direct with this, which is one of my interests.

Tech 21 SansAmp Classic: This is what I ended up getting, for $225 with DC adapter. This unit is EXTREMELY versatile for sounds. It has the following on/off switches: mid-boost (two of them for various levels of mid boost), low drive, clean amp (with this on, I find that I can get a convincing emulation of a tube amp on the edge of distortion. Very warm. But you can also get pretty rocking overdrive sounds with this on), bright switch, vintage tubes (along with the clean amp switch, my favourite feature on this unit. Gives a convincing tube amp sound.), speaker edge, close miking. Next, the SansAmp has a switch for choosing between a Marshall-type sound (mid-ranges and highs emphasized), Mesa/Boogie-type sound (flat EQ) and a clean Fender sound. As an added bonus, by choosing a clean amp setting and the Fender sound, this unit works as an excellent DI box for bass. Finally, there are four knob controls: presence drive (for high-end gain), amp drive (for regular gain), output volume, and a tone control. That's a lot of controls, but I find this unit pretty easy to use. Some of the recommended settings that they give in the manual are completely out to lunch, at least with my guitar. But it's not hard to figure out how to get a vintage Marshall or Mesa/Boogie sound on your own. I am extremely happy with the warm tube-like sounds that I can get out of this box. If the controls aren't set right, it can sound bad though. In particular, with the clean amp setting off, I can't stand the crackling-type distortion I get when the amp drive is set at a low level. So unless I'm going for a really high overdrive, I keep the clean amp switch on.

The Tech21 SansAmp GT2: This is the unit that I originally planned on buying. It was going for $125, without DC adapter. It may have been me, but I just couldn't get a decent sound out of this thing. All I could manage were the sounds that I didn't like from the more expensive SansAmp. Maybe I just didn't fool with the switches enough. I would be interested in hearing from someone else who has tried both of the SansAmp models. It seems like the circuitry is pretty similar between the two, but I just couldn't get the cheaper one to work to my satisfaction, much to my dismay. It would well for the real hard distortion sounds, but I couldn't get it to emulate a tube amp just beginning to distort.

I highly recommend the more expensive SansAmp Classic from this group. I never found a place to try the Morley JD-10, so I can't compare it. I suspect that the SansAmp is more versatile. Now that I've found the settings that I like on the SansAmp, I don't plan on changing it around too much. The versatility is most useful as a means of customizing the unit to get the sound that you want. It's not really intended to be used as an effects where you change from sound to sound.
Tech 21 Pedals at Fred's Music
The Sans Amp Classic distortion and amp emulation pedal from Tech 21. SansAmp Classic: list $345 - - $259 at Fred's Music. Features a front-panel Character DIP switch that selects the characteristics you want, with any combination of eight choices: Mid Boost I and II; Low Drive;Clean Amp; Bright Switch; VintageTubes; Speaker Edge and Close Miking. An input switch gives a choice of three preamp styles: Lead for Marshall« style with mids and highs emphasized; Normal for Mesa Boogie emulation; and Bass for Fender« tones, nice for rhythm. You'll find variable controls for Presence Drive (preamp contour,) Amplifier Drive (power amp contour,) Output and High (EQ.) Generates a variety of tones for live and studio use. Sample settings are provided for just about any amp. 9V battery or included AC adapter.

Tri-O.D. is a guitar preamp pedal with three footswitchable channels. Channel One offers Tweed (Vintage Fender) character; Two is California (Boogie) while the third choice is British (Marshall). Each channel features a Drive and Level control for true two-stage overdrive. You can turn each channel off and switch between the ones left on; if you turn them all off you can use the Speaker Simulator (with bypass button) and the Master Section with volume, treble and bass controls. One in, one out. List $245 - - $139.95 at Fred's Music.

XXL is a distortion stomp box from Tech 21. They describe it quite simply: "Rotund. Lardaceous. Corpulent. Bodacious, even." [But does the unit in fact possess those properties? - Michael] Its unique X-Factor circuitry, continuously adjusts the ratio of odd and even harmonics in your sound. That means everything from smooth tube overdrive to edgy fuzz tone, and anything between. This is controlled with the Warp knob, which manipulates harmonic structure and influences X-Factor relative to the dynamics of your instrument and playing. It's interactive; radically change your tonal characteristics with your pick attack and the force of playing. At the middle setting you'll dial up traditional distortion suitable for chords and rhythm parts. Turn it up and the tone gets smoother, fatter, thicker, juicier. When you turn it down, even harmonics predominate, like a saturated Class A tube amp. Level and Drive controls. A level-compensated passive Tone control, which is flat at maximum, boosts body and low end at the mid point and cuts highs in the minimum position all without altering levels. 9V battery or optional DC2 adapter. XXL: list $125 - - $95.95
---
tons of user comments and articles about various models of Sans Amp
Includes links:
SansAmp GT2 - user comments
SansAmp Original - user comments
SansAmp PSA-1 Preamp - user comments - net resources
SansAmp Classic - user comments
Tri-O.D. Overdrive Pedal - user comments
XXL - user comments

_________
Query for DejaNews newsgroup postings for "sans amp"
Messages 1-100 of about 200 matches for search "sans amp":

        Date   Scr        Subject                     Newsgroup           Author

   1. 98/09/16 044 Re: What Is Sans Amp?        alt.guitar            Jerry          
   2. 98/10/04 043 Re: What direct box can repl alt.guitar.effects    JBC Beeche     
   3. 98/09/25 043 FS: Sans Amp                 alt.guitar            Stephen Keay   
   4. 98/09/22 043 FS: Sans Amp Classic         rec.music.makers.mark Stephen Keay   
   5. 98/09/17 043 FS: Sans Amp - Price reduced alt.guitar            Steve Keay     
   6. 98/10/04 042 Re: What direct box can repl alt.guitar.effects    Kamchak Tuchuk 
   7. 98/09/23 042 Re: Another Sans Amp questio alt.guitar            Steve Swope    
   8. 98/09/17 042 Re: What Is Sans Amp?        alt.guitar            r27obt         
   9. 98/09/17 042 Re: FS: Sans Amp - Price red rec.music.makers.mark Alan Franks    
  10. 98/09/17 042 Re: What Is Sans Amp?        alt.guitar            tenebre        
  11. 98/09/17 042 Re: FS: Sans Amp - Price red rec.music.makers.mark village2       
  12. 98/09/17 042 Re: Another Sans Amp questio alt.guitar            DaBugMan       
  13. 98/09/16 042 Re: FS: Sans Amp - Price red rec.music.makers.mark shawn charniga 
  14. 98/09/16 042 Re: What Is Sans Amp?        alt.guitar            Dave the Dork  
  15. 98/06/15 042 Sans Amp Classic Audio Clips alt.guitar            Harry J        
  16. 98/06/15 042 Sans Amp audio clips MP3     alt.guitar.amps       Harry J        
  17. 98/06/07 042 Re: Sans Amp                 alt.guitar.amps       edwin          
  18. 98/06/06 042 Sans Amp                     alt.guitar.amps       Khaled Mobarek 
  19. 98/05/15 042 Re: direct recording guitar  alt.guitar            Damien Harrison
  20. 98/09/19 041 Re: Another Sans Amp questio alt.guitar            DaBugMan       
  21. 98/09/18 041 Re: Another Sans Amp questio alt.guitar            Pete J. Ahacich
  22. 98/09/17 041 Re: FS: Sans Amp - Price red rec.music.makers.mark shawn charniga 
  23. 98/09/11 041 FS: Sans Amp - Price reduced rec.music.makers.mark Stephen Keay   
  24. 98/09/10 041 FS: Sans Amp Classic         alt.guitar            Stephen Keay   
  25. 98/06/19 041 Re: Tech 21 Sans Amp         alt.guitar            Sickness       
  26. 98/09/27 040 Direct Boxes                 alt.guitar            jeff           
  27. 98/09/27 040 Re: Direct Boxes             alt.guitar            ggates         
  28. 98/05/16 040 Re: Amping question.         alt.guitar            JoMazza        
  29. 98/05/14 040 Re: direct recording guitar  alt.guitar            JoMazza        
  30. 97/12/23 040 Re: Sans Amp GT-2 For Sale   alt.guitar            Cokaholik      
  31. 97/12/22 040 Sans Amp GT-2 For Sale       alt.guitar            BMerluzzi      
  32. 97/12/22 040 Sans Amp GT-2 For Sale       alt.guitar.amps       BMerluzzi      
  33. 98/09/27 039 Re: Direct Boxes             alt.guitar            Dave the Dork  
  34. 98/09/27 039 Re: Direct Boxes             alt.guitar            RUTTER         
  35. 98/09/27 039 Re: Direct Boxes             alt.guitar            Les Cargill    
  36. 98/06/20 039 Re: Tech 21 Sans Amp         alt.guitar            Ali Janah      
  37. 98/06/18 039 Tech 21 Sans Amp             alt.guitar            Craig Jackman  
  38. 98/06/18 039 Re: Tech 21 Sans Amp         alt.guitar            Harry J        
  39. 98/06/18 039 Re: Tech 21 Sans Amp         alt.guitar            John Scrip     
  40. 98/05/14 039 Re: MXR                      alt.guitar            Bill Baeck     
  41. 98/09/06 038 Re: Fender amps or Sansamp?  alt.guitar            Ronsguitar     
  42. 98/09/04 038 Re: Fender Amp or Sansamp?   alt.guitar.amps       Kenneth La Barr
  43. 98/08/19 038 Re: WTB: L.R. Baggs Para-Aco rec.music.makers.guit Joe Mazza      
  44. 98/08/18 038 Re: WTB: L.R. Baggs Para-Aco rec.music.makers.guit Tom Loredo     
  45. 98/07/24 038 Sans Amp Classic is killer   alt.guitar.amps       Edwinj         
  46. 98/06/08 038 Re: preamp that sounds most  alt.guitar.amps       Richard E. John
  47. 98/04/29 038 Re: ZZ Top                   alt.guitar.amps       NOCTURNAL10    
  48. 98/04/29 038 Re: ZZ Top                   alt.guitar.amps       Alan Thompson  
  49. 98/04/29 038 Re: ZZ Top                   alt.guitar.amps       Zorro_2000     
  50. 98/04/28 038 Re: ZZ Top                   alt.guitar.amps       Marc Ferguson  
  51. 98/03/11 038 Sans Amp Question            alt.guitar            saradad1       
  52. 98/02/18 038 [Q]Sans Amp GT-2 setting     alt.guitar            "└╠┴ě│Ű" <jnlee
  53. 98/02/11 038 which pedal should i get?v-t alt.guitar            friendly dude  
  54. 97/11/24 038 Effects with Sans Amp GT     alt.guitar.amps       Chris          
  55. 97/11/24 038 Re: Effects with Sans Amp GT alt.guitar.amps       HUMAN          
  56. 98/09/04 037 Re: Fender Amp or Sansamp?   alt.guitar.amps       Richard E. John
  57. 98/07/29 037 Re: Effects Help             alt.guitar            Eleven1034     
  58. 98/07/24 037 Re: Best tube sound overdriv alt.guitar.amps       Edwinj         
  59. 98/06/16 037 Re: Lower wattage 6L6?       alt.guitar.amps       Harry J        
  60. 98/06/12 037 Re: preamp that sounds most  alt.guitar.amps       Mark T. Van Dit
  61. 98/05/12 037 Re: Question: Amp Thru Mixer alt.guitar            JoMazza        
  62. 97/11/26 037 Re: Effects with Sans Amp GT alt.guitar            BrettGV        
  63. 98/08/27 036 FS/FT: Voodoo Lab Tremolo pe alt.guitar.effects    Sonic VI       
  64. 98/08/27 036 FS/FT: Voodoo Lab Tremolo pe alt.guitar            Sonic VI       
  65. 98/08/18 036 Re: WTB: L.R. Baggs Para-Aco rec.music.makers.guit Joe Mazza      
  66. 98/08/17 036 Re: Tubeman vs. V-twin       alt.guitar            JBC Beeche     
  67. 98/07/24 036 Re: Sans Amp Classic is kill alt.guitar.amps       Charles Thomas 
  68. 98/07/24 036 Re: Sans Amp Classic is kill alt.guitar.amps       John Kelley Bro
  69. 98/06/17 036 Re: Lower wattage 6L6?       alt.guitar.amps       Harry J        
  70. 98/06/16 036 Guitar items at auction      alt.guitar            roguemus       
  71. 98/04/29 036 Re: ZZ Top                   alt.guitar.amps       NOCTURNAL10    
  72. 98/04/24 036 Re: What amp would Hendrix b alt.guitar.amps       Angelo M       
  73. 98/04/17 036 Re: Distortion question      alt.guitar            coracin        
  74. 98/04/17 036 Re: Distortion question      alt.guitar            TravIsGod      
  75. 98/02/12 036 Re: sans amp gt-2 tube ampli alt.guitar.amps       kalen martin ro
  76. 97/11/12 036 Re: best guitar amp simulato alt.guitar.amps       Village1       
  77. 97/04/24 036 //++// Sans Amp Question?? \ alt.guitar            BFINNX         
  78. 98/09/07 035 Guitar/Bass Rig Recommendati alt.guitar.amps       Steve Daily    
  79. 98/04/18 035 Re: Direct Guitar Recording  alt.music.4-track     T Axford       
  80. 98/04/12 035 Re: Direct Guitar Recording  alt.music.4-track     steve jobs     
  81. 98/04/03 035 25 guitars and effects at au alt.guitar            roguemus       
  82. 98/03/18 035 Re: Tech 21 Trademark 60     alt.guitar            Stratoman      
  83. 98/03/11 035 Re: Swap Setups?        #1/3 alt.guitar            a3084280       
  84. 98/03/11 035 Re: Swap Setups?        #3/3 alt.guitar            a3084280       
  85. 98/03/05 035 Re: Roland JC120             alt.guitar            JoMazza        
  86. 97/11/12 035 Re: best guitar amp simulato alt.guitar.amps       Steven Keys    
  87. 98/08/19 034 Re: WTB: L.R. Baggs Para#1/2 rec.music.makers.guit Tom Loredo     
  88. 98/07/29 034 Re: volume boost             alt.guitar.amps       Patrick F. Cole
  89. 98/07/19 034 Re: Best tube sound overdriv alt.guitar.amps       Richard E. John
  90. 98/04/14 034 Re: Direct Guitar Recording  alt.guitar            Roland         
  91. 98/04/06 034 Re: Best stomp box TUBE or T alt.guitar            Speakin Atchew 
  92. 98/03/21 034 Re: The Quest for the perfec alt.music.independent jetlag         
  93. 98/03/18 034 Re: Which package to buy?    alt.guitar            Patrick F. Cole
  94. 98/02/23 034 Acoustic Gtr DI Boxes...     alt.guitar            JoMazza        
  95. 98/02/23 034 Acoustic Gtr. DI Boxes...    alt.guitar.effects    JoMazza        
  96. 98/02/12 034 Re: Q About Fender Princton  alt.guitar.amps       Randy Long     
  97. 98/01/13 034 Re: Fulldrive VS. Centaur??  alt.guitar.amps       Stratoman      
  98. 97/11/02 034 Re: Amp Emulators....which o alt.guitar            Bill           
  99. 97/10/15 034 Re: johnson Millennium?       alt.guitar.amps       IceHouse       
 100. 97/04/11 034 Re: Sans Amp? Which One is B alt.guitar            JT Roberts     

---
Amptone.com ultra gear-search page
---
Home (amp tone and effects placement)