Home (amp tone and effects placement)
---
Valve House Music - KT50 Tube Convertor Sockets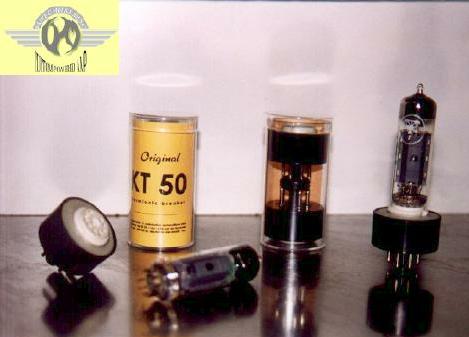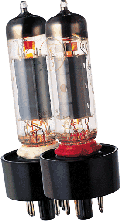 KT50 tube adapter official page
If you have a big tube guitar amplifier which is rated 50 watts or a 100 watts the chances are that your parents, family, relatives, friends, bandmates, fans, groupies, concert attendees, club owners, managers, sound technicians, barmen, barwomen, waiters and waitresses have asked you to TURN DOWN.
The problem when you turn down the guitar is in most cases it alters your tone (the highs seem to go) and if you turn down on the amplifier you end up sounding like some comic book soundtrack instead of your full sound, so you find solutions. Can leave large amplifier rigs at home and take a small amp such as Mesa/Boogie Subway.
The Valve House Paris K50 - Keep the tone by using all your amplifier circuits but reduce the volume by replacing your 6L6, EL34 or old 7027 tubes and put 2 or 4 KT50 (with EL 84) into your tube sockets turn the amplifier up and you are wailing at 15watts RMS (2 sockets) or at about 30 watts (4 sockets).
You can take the 6L6's out from a Mesa Boogie Mk4 and put two KT50s in the outside sockets. You can setting the amp's volume control to 6 or 8. In contrast, that amp at the usual full volume of 3 (on simul class - pentode - full power) at an outdoor concert, there was a complaint from 6 kilometres away.
Avantages include:
Playing your 100 watts at full tilt at reduced volumes
No modifications needed
No biasing needed, the KT50 is automatic
Tone heaven with your large amplifier at reduced volume
Benefit from all the reverbs, eqs and other amplifier controls to get the good tone you bought the amp for, but at lower volumes
Sales in France are good.
The designer sings and plays guitar for the Paris based Dr Pickup band.
Keep all the richness and tone of your amp sound while lowering the volume with 2 or 4 KT50 (with EL 84) plugged in to your tube sockets. Turn up the juice and you'll be wailing at 15 watts RMS (2 sockets) or 30 watts (4 sockets).
What do KT50's add to your life? The ability to play your big amps fully and let KT50 do the rest: lower that volume so the neighbours don't complain! No rewiring necessary - just plug the KT50 into your tube sockets. Automatic biasing on every KT 50 Doesn't affect the sound quality of your big amps - just reduces the volume. You can have all the effects & setting you like best - but hassle free volume. Save on your big tubes (or valves) like the 6L6, EL34 and even the 7027 and just use them when you've got that mega concert to play.
For more info (prices, where to order etc) email stringkiller at geocities.com
4/30/2000 I wrote:
>Please send me information about where to order the KT50, technical specs, or marketing material.
Thanks for your email,
The KT50 retail price in France is 690 frs (including 19.6% purchase tax)
- 690 French Franc = 97.1849 US Dollar
The KT50 whole sale price is 350 frs excluding sales tax.
Delivery is in boxes of eight (that means the minimum order is 8)
350 French Franc = 49.2967 US Dollar
350 US Dollar (USD) = 2,484.95 French Franc (FRF)
Delivery is in boxes of eight (that means the minimum order is 8)
Postage should be about $10-$15.
The shipping time is 7-10 days from France to USA. If you have an account with Fed ex or DHL then they can pick it up at our offices in Rueil Malmaison (10 min. outside of Paris).
For payment we could do this through the company I work for (http://www.formavision.com/secure.html) via on line secured ordering or by fax if you prefer or by banker's cheque.
If you are not 100% satisfied you return the KT50s and we will reimburse the KT50 but not the postage there or back. ( Valid 30 days)
Look forward to hearing from you
-- Bruce
Bruce Duncan-Smith
Marketing Director
Formavision Interactive Learning Systems
Paris, France
http://www.formavision.com
avec catalogue electonique en Francais & European Training on line catalogue
Tel 33 (0)1 47 08 1212
Fax 33(0)1 47 08 0158
Uin N° (ICQ) 4179725
For media ring is 33 1 70810031
Member of ETMA
http://www.etma.org
380+ online courses at http://www.formavision.com/training/ for you and your company.
---
Amptone.com ultra gear-search page
---
Home (amp tone and effects placement)