Home (amp tone and effects placement)
---
Zoom - 505 MKII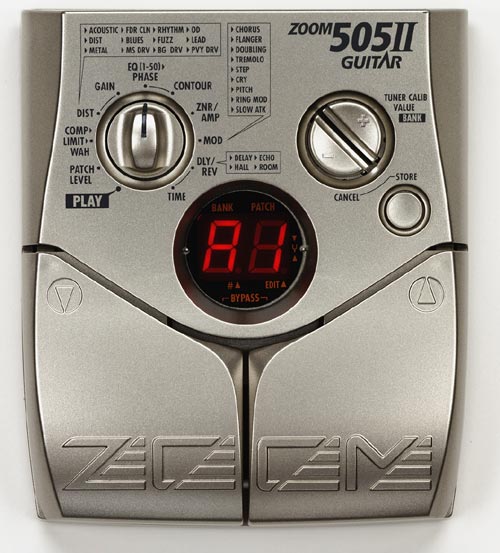 product info at dealer americanmusical.com
New: Amp modeling.
Streamlined design compared to original 505. Easy to use analog controls. 9 new Zoom effects.
July 21, 2000 announced at NAMM.
Popular, inexpensive multi-effect guitar pedal.
New distortion effects include Clean, Scream, Wild and Shred. New modulation effects such as Cry, Tremolo, Ring Modulation, Slow Attack and Echo.
33 guitar effects, arranged in 7 modules. Use 9 effects at the same time.
12 types of distortion sounds.
Famous guitar amp sounds created using Zoom's proprietary VAMS (Variable Architecture Modeling System) technology.
Large rotary selector, easy-to-read red LED display and foot switches.
36 patch locations.
ZNR (Zoom Noise Reduction)
28 hours of continuous operation with four size AA alkaline batteries plus AC operation.
Rear panel input for expression pedal
Auto chromatic tuner.
$145.
Zoom 505 II at NAMM - now with VAMS
---
Amptone.com ultra gear-search page
---
Home (amp tone and effects placement)